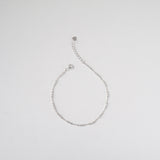 Handcrafted from premium quality sterling silver, Angilia Beads Ankle Bracelet is designed to add a touch of elegance to any outfit. Its delicate, dainty design makes it perfect for layering with other pieces or wearing on its own, while the intricate beadwork adds a touch of texture and dimension to the overall look.
But this ankle bracelet is more than just a pretty accessory. Its high-quality materials mean it's built to last, so you can enjoy its beauty for years to come. Plus, the sterling silver material is hypoallergenic, making it ideal for those with sensitive skin.
Whether you're dressing up for a special occasion or just looking to add a touch of sparkle to your everyday look, this piece is the perfect choice.
Product Details 
Materials: Sterling Silver 925
Chain Length: 19 - 21.5 cm
Note About Location
Please select your location correctly. We keep our inventory for Hong Kong Customers and for International Customers separately. Please do not purchase jewellery that is out of stock in your location as we will not be able to fulfill your orders - For example, if you are from the United States and a particular jewellery piece is only available in Hong Kong but not in Rest Of World, please do not place an order for that variant.