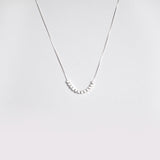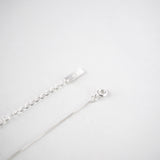 Our Arlee Gravel Necklace is an exquisite piece that is sure to turn heads. It features a stunning pendant that is shaped like 3D cubes. What's unique about this pendant is that it can be removed from the base and rotated to create the illusion of movement. It's an innovative design that adds a touch of playfulness to this already stylish accessory.
An exceptional piece of jewelry that combines innovation, elegance, and versatility. It's a perfect accessory for those who want to make a bold statement while still looking chic and sophisticated.
Product Details 
Materials: Sterling Silver 925
Chain Length: 39 - 43.5 cm (Adjustable)
Note About Location
Please select your location correctly. We keep our inventory for Hong Kong Customers and for International Customers separately. Please do not purchase jewellery that is out of stock in your location as we will not be able to fulfill your orders - For example, if you are from the United States and a particular jewellery piece is only available in Hong Kong but not in Rest Of World, please do not place an order for that variant.