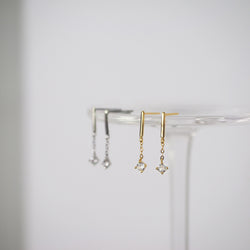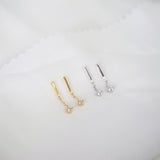 Add sparkle and grace to your look with our Kylo Drop Earrings. Handcrafted from high-quality sterling silver 925 and adorned with a dazzling single cubic zirconia stone, these earrings are designed to catch the light and captivate attention.
The drop design adds a touch of sophistication and grace to your look, making them perfect for special occasions or adding a touch of glamour to your everyday style. The exquisite craftsmanship and attention to detail make these earrings a must-have accessory for any fashion-forward individual.
Product Details
Materials: Sterling Silver 925, Cubic Zirconia
Size: 
Note About Location
Please select your location correctly. We keep our inventory for Hong Kong Customers and for International Customers separately. Please do not purchase jewellery that is out of stock in your location as we will not be able to fulfill your orders - For example, if you are from the United States and a particular jewellery piece is only available in Hong Kong but not in Rest Of World, please do not place an order for that variant.