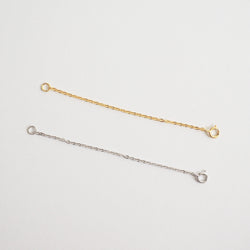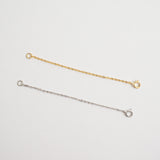 Don't get stuck with the wrong chain length!  A fantastic way to upsell your jewelry by using our Necklace Extender.
Turn your gold collar into a princess-length necklace or add an extra chic vibe. With this sturdy gold necklace extender, every necklace becomes versatile and easy to style. Wear jewelry in a smart way and get a different necklace each day of the week with this useful necklace extender.
Product Details. 
Materials: 925 Sterling Silver, Gold Vermeil
Length: 8 cm
Note About Location
Please select your location correctly. We keep our inventory for Hong Kong Customers and for International Customers separately. Please do not purchase jewellery that is out of stock in your location as we will not be able to fulfill your orders - For example, if you are from the United States and a particular jewellery piece is only available in Hong Kong but not in Rest Of World, please do not place an order for that variant.